Your Search For Parking Lot Striping Near Me Ends Here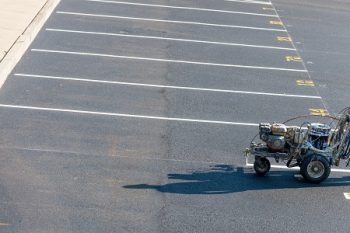 At 360 Paving of Washington, our paving contractors can help you organize your parking lot with our efficient parking lot striping services. With bright striped parking stall lines, arrows for directional flow, handicap parking spaces, and clearly marked fire lane areas, we can help make your parking lot easy to navigate for all customers and employees. Our team has years of experience designing and striping parking lots, and we offer a 1-year warranty on all of our work, ensuring that your parking lot will remain organized and easy to navigate for years. Contact us today for a free estimate, and let us help maximize your parking lot space.
We Use Only the Highest Quality Parking Lot Paint and Equipment
We understand how important it is for traffic flow to remain uninterrupted during road maintenance. That's why we have designed our paint specifically to meet and exceed Washington State specifications to cater to our customer's needs. Our trained professionals ensure that each layout and painted traffic line is straight, true, and consistent. We take pride in our work and value excellence over all things. That's why we use airless striping equipment and clean-cut stencils for lettering, resulting in bright and evenly painted stencils or symbols.
Our Parking Lot Lines Are Always ADA Compliant
A properly marked commercial parking lot is not only aesthetically pleasing but also important for safety and accessibility. At 360 Paving, we understand the importance of ADA-compliant pavement markings in ensuring your parking lot is up to code. Our trained contractors have the expertise and experience to apply the necessary pavement markings with precision and accuracy. We use state-of-the-art equipment to ensure your parking lot is finished correctly and to your satisfaction. Trust us to provide professional parking lot striping services for your business.
Why You Need Professional Parking Lot Sealing and Striping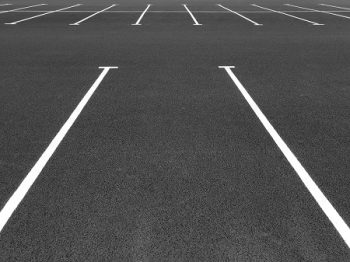 A well-designed parking lot layout is not just a convenience but a crucial part of any business. Poorly marked lanes on your asphalt surfaces or confusing signage can lead to inappropriate parking, blocked driveways, or worse – vehicle accidents. If that's not enough to worry about, legal issues can arise when accidents do occur. It's important to invest in proper guidance for drivers and make sure they can safely navigate your lot. Whether it's through clear markings, visible signage, or stop signs in the right locations, taking the time to implement these measures can save you headaches down the line.
Get Your Parking Space Striping Services From 360 Paving of Washington
When it comes to parking lot spaces, maximizing your space is essential to ensure you can accommodate more visitors while still ensuring traffic flows smoothly and safely. This is where 360 Paving of Washington comes in to help. With careful planning, such as calculating how many angled parking stalls we can fit into your space and precise pavement striping, we can help you fit the maximum number of cars into your lot without sacrificing drivability. As a professional and certified paving company, we are committed to providing high-quality paving services at fair and affordable prices to all our commercial clients in Washougal, WA. Contact us today so we can get started on your next parking lot marking project!